Aluminum Based PCB is a kind of Metal Based PCB with good heat dissipation function. Generally, the single panel is composed of three layers: circuit layer (copper foil), insulation layer and metal base layer. Common in LED lighting products. There are positive and negative sides. The white side is welded with LED pins, and the other side is aluminum natural color. Generally, it will contact with the thermal conductive part after applying thermal paste. There are also ceramic PCB substrates and so on.
LED aluminum substrate PCB which is also the meaning of printed circuit board, but the material of circuit board is aluminum alloy. In the past, the material of our general circuit board is glass fiber, but because the LED heat is large, the circuit board used for LED lamps is generally aluminum substrate, which can conduct heat fast, and the circuit board for other equipment or electrical appliances is glass fiber board!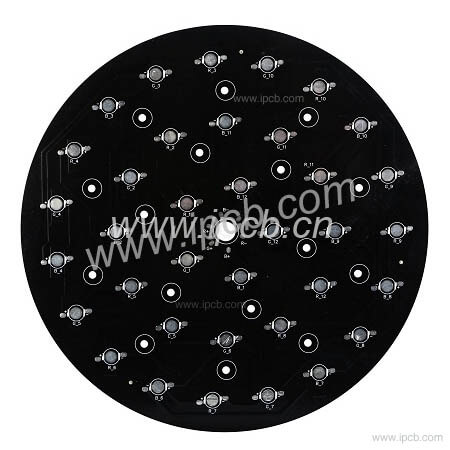 LED aluminum substrate PCB
Working principle of Aluminum Based PCB
The surface of the power device is mounted on the circuit layer. The heat generated during the operation of the device is quickly transferred to the metal base through the insulation layer, and then the heat is transferred out by the metal base layer, so as to realize the heat dissipation of the device
Production of Aluminum Based PCB
Compared with the traditional FR-4, the aluminum based PCB can reduce the thermal resistance to the minimum, so that the aluminum based PCB has excellent thermal conductivity; compared with thick film ceramic circuit, it has excellent mechanical properties.
In addition, aluminum based PCB has the following unique advantages:
Meet ROHS requirements;
It is more suitable for SMT process;
In the circuit design scheme, the thermal diffusion is treated effectively to reduce the operating temperature of the module, prolong the service life, and improve the power density and reliability;
Reduce the assembly of radiator and other hardware (including thermal interface materials), reduce product volume, reduce hardware and assembly costs, optimize the combination of power circuit and control circuit;
Replace fragile ceramic PCB substrate to obtain better mechanical durability.
Application of Aluminum Based PCB
Power hybrid IC (HIC).
Audio equipment
Input, output amplifier, balanced amplifier, audio amplifier, preamplifier, power amplifier, etc.
Power supply equipment
Switch regulator, DC / AC converter, SW regulator, etc.
Communication electronic equipment
High frequency amplifier, filter electric apparatus, transmitting circuit.
Office automation equipment
Motor driver, etc.
automobile
Electronic regulator, igniter, power controller, etc.
computer
CPU board, floppy disk drive, power supply device, etc.
Power module
Converter, solid state relay, rectifier bridge, etc.
Lamps lighting
With the promotion of energy-saving lamps, all kinds of energy-saving and gorgeous LED lamps are very popular in the market, and the aluminum substrate used in LED lamps has also begun to be applied on a large scale.
對於PCB技術問題,ipcb提供PCB技术的支持。您也可以在這里索取PCB報價。請聯繫郵箱: sales@ipcb.com
我們會非常迅速地做出回應。