Metal core PCB materials, including aluminum pcb, copper based PCB, iron-based PCB. Due to the cost advantage, aluminum is very popular in the LED lamp market.
Metal core PCB means that the core (base) material of PCB is metal, not common FR4 / cem1-3, etc. currently, the most commonly used metals in MCPCB manufacturers are aluminum, copper and steel alloys. Aluminum has good heat transfer and heat dissipation capacity, but it is relatively cheap; copper has better performance but is relatively expensive, and steel can be divided into ordinary steel and stainless steel. It's harder than aluminum and copper, but it's also less thermal. People will choose their own basic / core materials for different applications.
Advantages include:
Reduce the operating temperature.
Reduce PCB size.
Increase power density. Extending chip life
Improve the thermal and mechanical properties of the product.
Combine power and control.
Improve product durability.
Better use of surface mount technology.
Speed up heat sink and other installation hardware.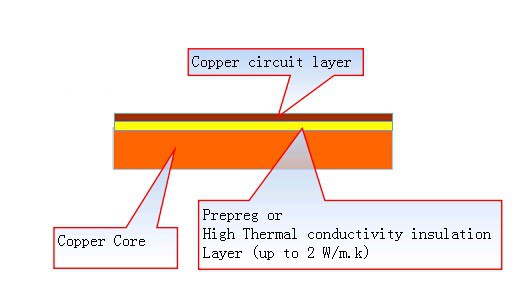 Copper core PCB stack
Copper core PCB is copper substrate + insulation layer + copper circuit layer PCB, also known as copper substrate PCB, copper based PCB, copper clad PCB.
As a MCPCB manufacturer, ipcb manufactures a variety of copper core PCBs for customers
對於PCB技術問題,ipcb提供PCB技术的支持。您也可以在這里索取PCB報價。請聯繫郵箱: sales@ipcb.com
我們會非常迅速地做出回應。