我們使用的材料:Rogers RO3003的陶瓷填充聚四氟乙烯複合材料,耐高溫,工作頻率為10GHz,溫度從-50℃到+150℃,DK可達-3ppm/℃,RO3003具有高介電常數頻率穩定性 並且可以在很寬的頻率範圍內使用。RO3003 層壓板在 10GHz 時也表現出非常低的 DF(0.0013)。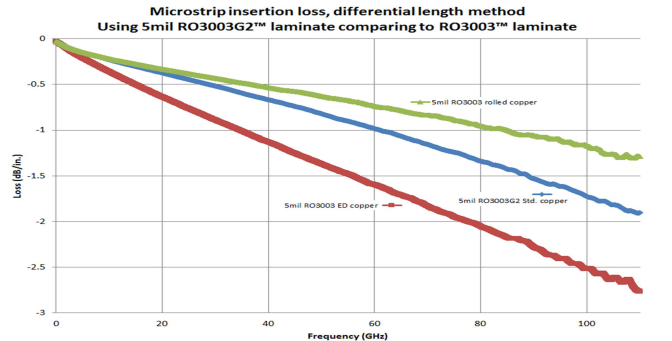 我們使用的材料:Rogers RO3003的陶瓷填充聚四氟乙烯複合材料,耐高溫,工作頻率為10GHz,溫度從-50℃到+150℃,DK可達-3ppm/℃,RO3003具有高介電常數頻率穩定性 並且可以在很寬的頻率範圍內使用。RO3003 層壓板在 10GHz 時也表現出非常低的 DF(0.0013)。
--Microwave PCB with works above 2 GHz radio frequency.
RF-pcb's are used in different applications such as remote controls(wireless controls)security,smartphones,sensors etc.
New technologies make more and more use of these RF applications.
This asks for a manufacturing according to high quality standards and choosing the right RF materials depending on the application.
It is important that one knows the properties of the various materials.Choosing the right material is perhaps the most critical decision in the production process of the RF PCB.
ipcb advantage
1. Quick respond,24 hours online service
2. No MOQ requirement
3. Diverse capabilities
4. Fast turnarounds available
對於PCB技術問題,ipcb提供PCB技术的支持。您也可以在這里索取PCB報價。請聯繫郵箱: sales@ipcb.com
我們會非常迅速地做出回應。
品名: 羅傑斯 RO3003 高頻電路板
基板: 羅傑斯 RO3003
層別 : 2L
介電常數 : 3.0
基板厚度 : 0.75mm
成品厚度 : 0.9mm
鍍銅厚度 :
導熱係數 : 0.5w/m.k
鍍銅厚度: 1oz (35μm)
表面處理: 化學金
產品應用: 車用雷達板, 航空通訊板, GPS 天線板
對於PCB技術問題,ipcb提供PCB技术的支持。您也可以在這里索取PCB報價。請聯繫郵箱: sales@ipcb.com 我們會非常迅速地做出回應。
我們會非常迅速地做出回應。