Rogers TMM Series PCB material (TMM3, TMM4, TMM6, TMM10, TMM10i, TMM13i) is a composite material based on ceramics, hydrocarbons, and thermosetting polymers.
Rogers TMM thermosetting microwave microwave PCB material combines low dielectric constant thermal change rate, thermal expansion coefficient consistent with copper foil and consistent dielectric constant. Because of their stable electrical and mechanical properties, TMM high frequency microwave PCB materials are ideal for high reliability stripline and microstrip applications. Compared with alumina filler substrates, TMM microwave PCB materials have obvious processing advantages. It can provide larger specifications of copper coating and use standard PCB substrate processing procedures.

TMM can provide dielectric constants from 3 to 13, and thicknesses from 0.015 to 0.500 to choose from, while maintaining a tolerance of plus or minus 0.0015 inches.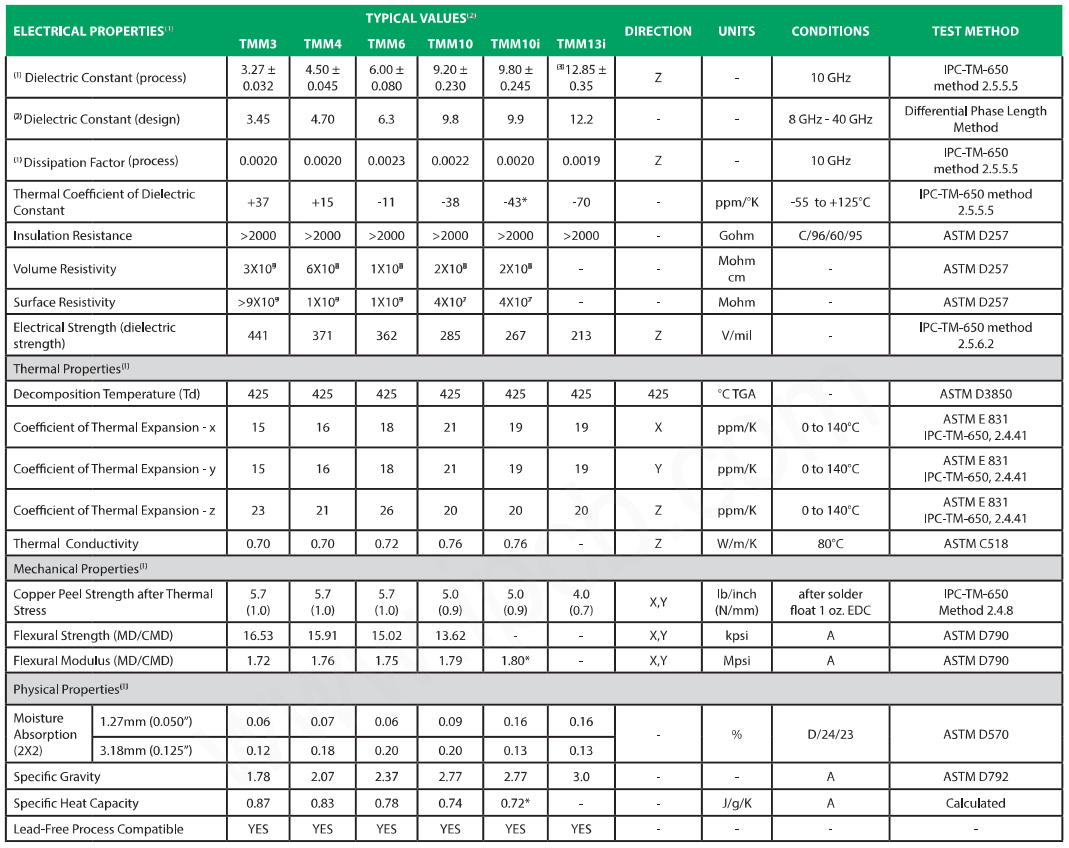 Rogers TMM PCB material(TMM3,TMM4,TMM6,TMM10,TMM10i,TMM13i )
Advantages of TMM microwave PCB materials
Rich candidate permittivity
Excellent mechanical properties, resistance to creep flow and cold flow
Rare very low rate of change in dielectric constant with temperature
Fits the thermal expansion coefficient of copper foil to ensure the reliability of plated through holes
Resistant to chemical reagents, no damage in the production and placement process
Thermosetting resin ensures reliable wire bonding
No special processing technology is required
TMM10 and 10i microwave PCB materials can replace alumina substrates
RoHS certification, environmentally friendly