Company introduction
iPcb Circuits Limited(ipcb®.com) is a high-tech enterprise focus on the R&D and production of high-end PCB. ipcb®.com has independently developed the PCB automatic quotation and order system, which is the first in the industry, and our final goal is the Internet + to build a smart PCB factory of industry 4.0, providing customers with professional PCB technology and production services.
ipcb®.com Products:
Radio/Microwave/Hybrid High Frequency , FR4 Double/Multi-Layer , 1~3+N+3 HDI,Anylayer HDI , Rigid-Flex , Blind Buried, Blind Slot , Backdrilled ,IC ,Heavy Copper Board and etc.PCB apply for Industry 4.0, Communication, Industrial Control, Digital, Power supply, Computer, Automotive, Medical, Aerospace, Instruments, Military, Interne and other fields.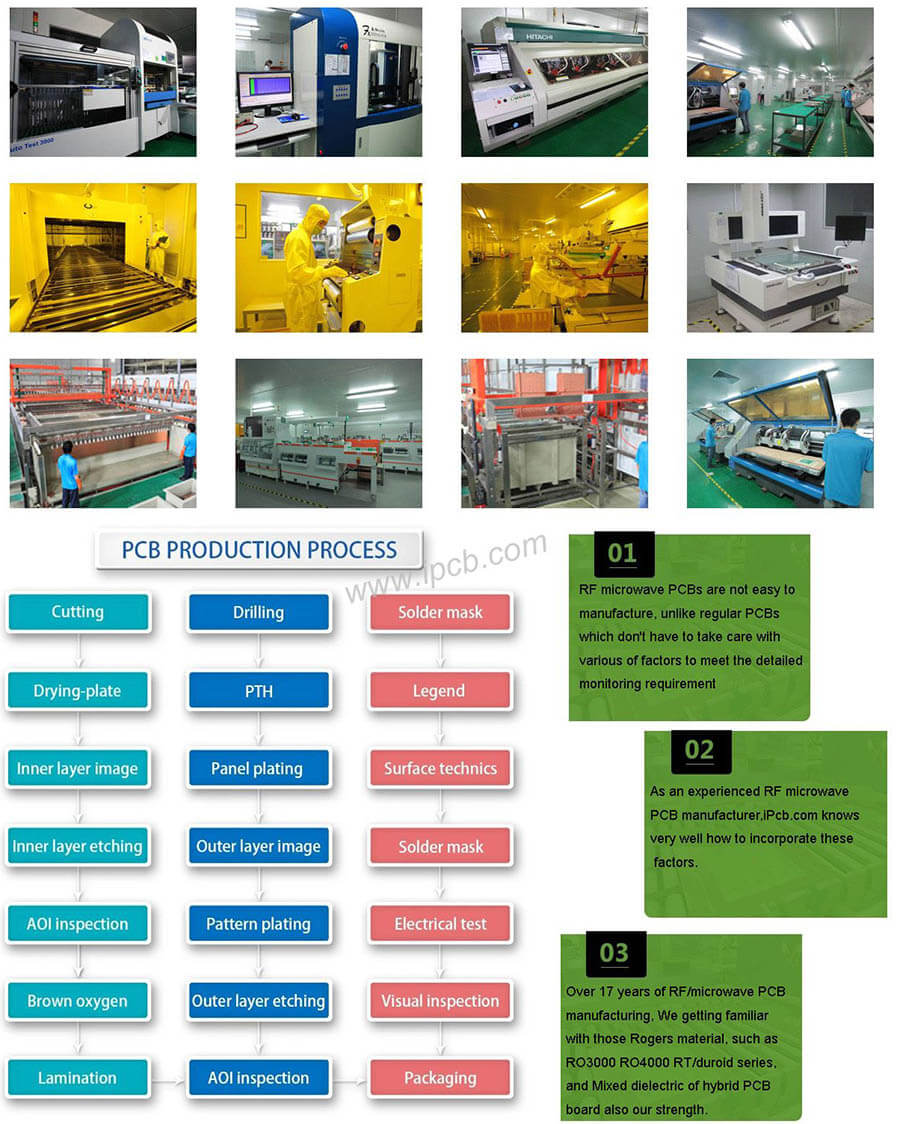 ---
Surface finishing: OSP / ENIG / HASL LF / Plated gold / flash gold / Immersion Tin / Immersion silver / Electrolytic gold
Capacity: Golden finger / Heavy copper / Blind buried via / impendance control / filled with resion / carbon ink / backdrill / countersink / depth drilling / half plated hole / pressfit hole / peelable blue mask / peelable solderstop / thick copper / oversize
Material: Rogers RO4350B / RO3003 / RO4003 / RO3006 / RT/Duroid 5880 / RT5870 and Arlon / Isola / Taconic / PTFE F4BM / Teflon material etc.
Layer: 2L 4L 6L 8L 10L 12L 14L 16L 18L 20L 22L 24L 26L 28L 30L
Dielectric Constant (DK): 2.20 / 2.55 / 3.00 / 3.38 / 3.48 / 3.50 / 3.6 / 6.15 / 10.2
Application: Consumer Electronics / Military/Space / Antenna & Communications System / High Power / Medical / Automotive / Industrial / Handheld device cellular / Wifi Antenna / Telematics and infotainment / Wifi/Computing/Radar/Power Amplifiers
---
對於PCB技術問題,ipcb提供PCB技术的支持。您也可以在這里索取PCB報價。請聯繫郵箱: sales@ipcb.com
我們會非常迅速地做出回應。
品名: 12層2階 HDI 電路板
基板:FR-4 ITEQ
層別:12L
疊構 : 2+8+2 HDI
成品板厚:1.6m

鍍銅厚度 : 1oz (35μm)
表面處理 : 化學金
最小線寬/ 線距 : 3/3 mil ( 75 / 75 μm )
孔徑: 雷射孔= 0.1mm, 機械孔= 0.2mm
產品應用 : 筆記型電腦
對於PCB技術問題,ipcb提供PCB技术的支持。您也可以在這里索取PCB報價。請聯繫郵箱: sales@ipcb.com 我們會非常迅速地做出回應。
我們會非常迅速地做出回應。