Carbon oil PCB (carbon oil printed circuit board) is a kind of PCB board which is coated with carbon conductive ink (referred to as carbon ink) on the substrate of PCB board and solidified to form a conductive pattern of carbon film. The production cost of PCB board needs to be reduced again and again. It is the general trend to use carbon oil keys to replace the expensive gold keys. The carbon oil keys have strong wear resistance and can withstand repeated operations, generally reaching 100000 or even million secondary normal opening and closing functions.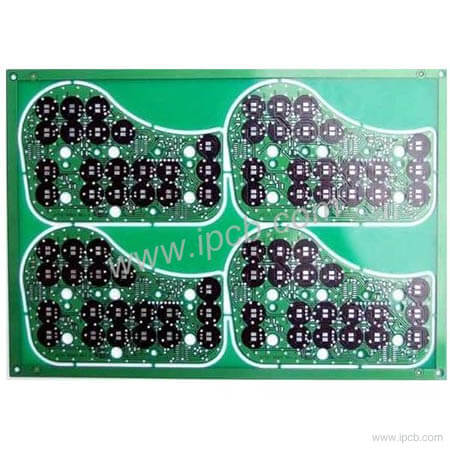 Carbon oil PCB (carbon oil printed circuit board)
At present, carbon ink is mainly printed on the PCB board substrate by screen printing (also known as silk screen printing). However, due to the high electrical performance requirements of carbon film, there are certain requirements for its resistance. Square resistance (referred to as square resistance) refers to the resistance between one side and the other side of a square thin film conductive material. The square resistance rs = P / T (where p is the resistivity of the conductive material and t is the thickness of the film). For the same kind of carbon ink, its resistivity is constant, and the square resistance of carbon film is inversely proportional to the thickness of carbon film. When the conductive pattern design of carbon film is fixed, that is, the carbon film area is fixed, the resistance value is only related to the thickness of carbon film. In carbon ink screen printing, the thickness of carbon film is difficult to accurately control, and the thickness of carbon film is uneven, which makes the resistance value of carbon film difficult to control.
對於PCB技術問題,ipcb提供PCB技术的支持。您也可以在這里索取PCB報價。請聯繫郵箱: sales@ipcb.com
我們會非常迅速地做出回應。
品名: 通孔塞碳墨電路板
基板: FR-1,
防火等及: 94v0
層別: : 1層銅箔+ 1層碳墨
成品板厚: 1.0mm

鍍銅厚度 : 1oz (35μm)
表面處理 : OSP
最小線寬/ 線距 : 3/3 mil ( 75 / 75 μm )
產品應用 : 鍵盤
對於PCB技術問題,ipcb提供PCB技术的支持。您也可以在這里索取PCB報價。請聯繫郵箱: sales@ipcb.com 我們會非常迅速地做出回應。
我們會非常迅速地做出回應。