With the progress of science and technology, electronic products have become indispensable daily necessities in people's life, and PCB is an important part of electronic products. In recent years, people have more and more functional requirements for electronic products, which puts forward higher requirements for PCB. Generally, in order to facilitate the installation of special function devices or sinking devices on the PCB, it is often necessary to set PCB step slots on the PCB. PCB step grooves are also an important part of high-power heat dissipation of products, and are widely used in the industry.
At present, there are mainly two ways to make PCB ladder groove
One is the manufacturing method of controlled depth milling. This production method is not only difficult to control the depth, it is difficult to control the depth milling to the specified line layer, resulting in the failure to meet the design requirements, but also unable to make graphics at the bottom of the groove.
The other is to fill or embed gasket. This manufacturing method is easy to appear laminated cavity phenomenon. This is due to the fact that during the lamination process, the steel plate will extrude part of the air in the PCB step groove, resulting in a certain amount of extrusion pressure, resulting in the displacement of the gasket, drilling between the core plate and the semi cured sheet at the edge of the slot, and forming a cavity after taking out the gasket. This kind of cavity will reduce the reliability of PCB, and the metal circuit in the hole position will be exposed, and it is easy to split in layers under stress.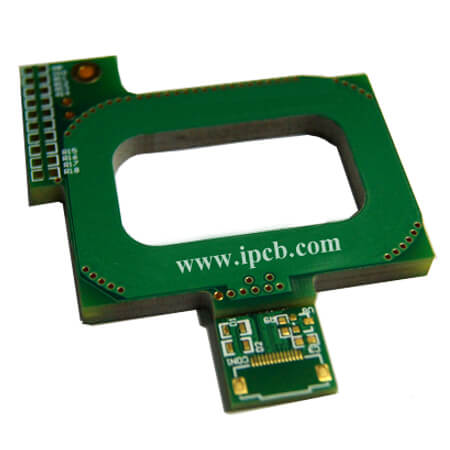 Step slot PCB
Step slot PCB, specific specifications according to customer requirements, can make step slot or step hole.
ipcb company is a high-tech enterprise specialized in manufacturing high-precision single -, double-sided and multi-layer printed circuit boards. The number of production layers is 1-70 layers, the small aperture is 0.075mm, and the line spacing is 1.5mil (0.03mm). The company's products are widely used in aerospace PCB, communication PCB, photoelectric PCB, industrial control PCB, instrumentation PCB, automobile PCB, all kinds of household appliances PCB, etc. ipcb adheres to the business philosophy of "customer first, integrity-based, enterprising and win-win" and the quality policy of "customers, quality first, full participation, continuous improvement, and pursuit of excellence". It always adheres to "fast speed, stable quality, preferential price, perfect after-sales service" to give back to new and old customers. ipcb has won the support and trust of the majority of customers!
對於PCB技術問題,ipcb提供PCB技术的支持。您也可以在這里索取PCB報價。請聯繫郵箱: sales@ipcb.com
我們會非常迅速地做出回應。